If you use CBD oil for therapeutic purposes, you might have heard of terpenes by now…
You might be wondering "What are they and why should I care?" "What are the effects of terpenes and how will they benefit my health?"
In this article, we are going to answer these questions and have an in-depth look at these medicinal and highly-energetic substances.
What are Terpenes?
Terpenes are a class of organic compound – known as aromatic molecules in chemistry – produced by various plants and some insects.
They are oil based and are found in all essential oils.
There are many terpenes contained within full-spectrum CBD oil and some of them may be as important as the CBD (cannabidiol). Some of the main ones illustrated below…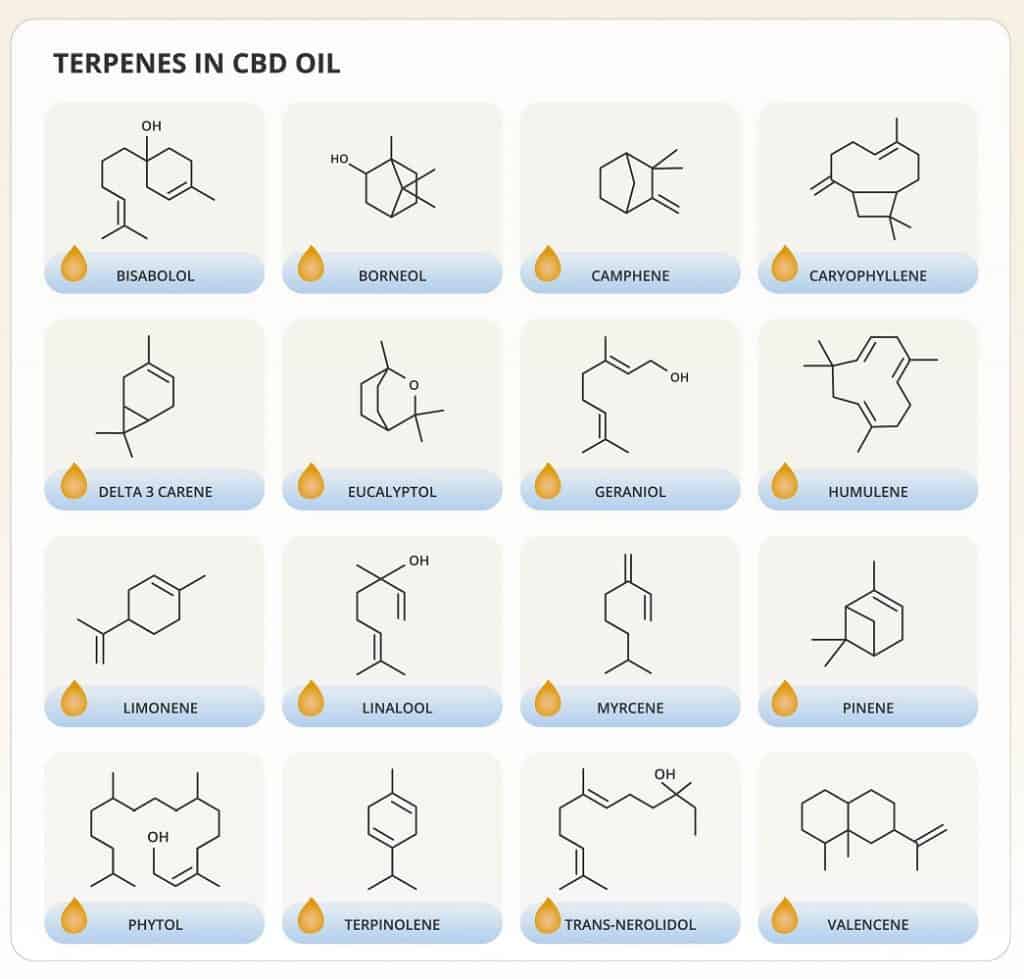 These hydrocarbon molecules are characterized by a strong odor, often pleasant to humans, but repellent for other animals.
It's the distinctive odour and flavor of terpenes – that is the telltale sign of a high-quality cannabidiol product.
In nature, their role is that of protecting the plant or insect against predators. [1]
Plants and insects may produce terpenes alone or in association with terpenoids.
While the terms are often used interchangeably, terpenoids belong to a different class of organic compounds derived from terpenes.
Typically, the main difference between the two is that terpenoids contain oxygen, whereas terpenes only contain molecules of carbon and hydrogen. [2]
Terpenoids have been used for centuries for their aromatic and medicinal qualities and they also play a role in homeopathic medicine.
Some of the most common terpenoids used as traditional remedies include camphor, curcuminoids found in turmeric as well as the cannabinoids.
What are The Health Benefits & Effects of Terpenes?
The scientific literature now reports many benefits of terpenes in regard to human health.
It is now know that high quality terpenes can actually enhance the benefits of CBD oil.
According to several studies, terpenes have a positive impact on human health not only when contained in herbal remedies, but also when we are simply exposed to them in nature. [3], [4]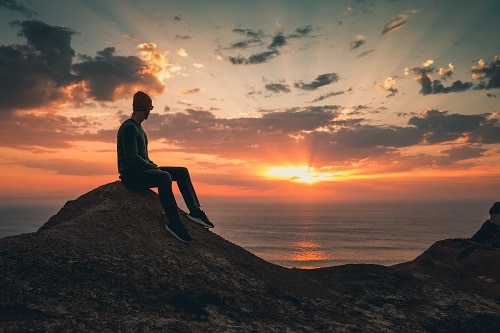 Some reported positive effects of terpenes include:
Anti-inflammatory properties
Antibacterial
Antifungal
Antiviral
Antihyperglycemic
Antiparasitic
Similarly, terpenoids have been shown to have similar effects, especially in the fight against a variety of infectious diseases, including malaria as well as inflammatory diseases and cancer. [5]
Terpenoids have antimicrobial, antifungal, antiparasitic, antiviral, anti-allergenic, antispasmodic, antihyperglycemic, anti-inflammatory, and immunomodulatory properties. [10]
Besides the general studies on these substances, specific research conducted on the terpenes and terpenoids found in cannabis further confirms the therapeutic benefits of these substances. [6], [7]
According to these studies, the main effect of the cannabis terpenes on humans, are the fragrance attributes that typically determine the preference of one cannabis strain over another.
Fragrance aside, the terpenes also contribute to the so-called "Entourage Effect", which suggests a pharmacological synergy between these components of the cannabis resin and the cannabinoids.
While further research is necessary, preliminary studies agree that terpenes can help in the treatment of depression, anxiety and addiction.
Furthermore, the studies conducted on the cannabinoids highlight their anti-inflammatory, antimicrobial, antioxidant, immunomodulatory, and anticancer effects.
With this in mind, choosing a high quality CBD oil enhanced with specific terpenes and terpenoids can deliver a therapeutic experience tailored to your needs and with more predictable effects.
What Are The Best Quality Terpenes?
When choosing a CBD oil or terpene product to buy, it is essential to pay attention to its ingredients.
Many manufacturers try to replicate natural cannabis terpenes in laboratories, but if you want a quality product with tested therapeutic effects, it is essential to pick one containing organic terpenes extracted from certified organic hemp.
Terpenes within an organic and full-spectrum CBD oil is also essential.
Another factor to consider is the extraction method of CBD oil – because several extraction methods actually remove or damage terpenes.
You should also only trust those products that have been tested by third-party laboratories for ingredients and quality control, to make sure they contain no heavy metals, pesticides, or other contaminants.
Another essential thing to check before buying is the specific type of terpenes in the product you want to buy.
For instance…
a study published in the Life Science magazine highlighted the anti-depressant effects of cannabis terpenes linalool and pinene. [8]
Thus, choosing a high-quality organic and full-spectrum CBD oil enhanced with specific terpenes can have some excellent therapeutic benefits for people fighting against depression and anxiety.
Similarly, choosing a CBD oil containing specific terpenes for the condition you're fighting can enhance the synergistic effect of the product.
Where To Buy Terpenes?
There are many positive effects of terpenes, but if you want to make sure you're getting the real deal, it is important to pay attention to your supplier.
No doubt, one of the easiest ways to buy terpenes is online, but sometimes you have to do a lot of research to find a high quality and reliable manufacturer.
To source high-quality, organic terpenes, it is always advisable to check the manufacturer and make sure it has been produced from organic ingredients and third-party tested in laboratories for ingredients and quality control.
We know this is laborious – that's why we have already done all the hard work for you. We reviewed the most popular CBD brands selling high-quality terpene products.
Because their CBD oil is:
Made from organically grown hemp and is full-spectrum CBD oil;
Extracted using the supercritical CO2 extraction methods to keep the CBD pure and clean;
Third-party tested for heavy metals, contaminants, pesticides, molds, and other microbials; and
Manufactured in FDA registered facilities…
…the CBD oil brand Green Garden Gold came out on top.
Green Garden Gold produce premium CBD products and they have designed a range of 'Real Terpenes' to further support stress, sleep, mood, and mental issues.
Based in Carrollton, Texas, Green Garden Gold manufactures all its CBD products in its state-of-the-art, FDA-registered facility, using exclusively organic certified hemp supplied by domestic farms in Colorado.
Not only they test all ingredients for heavy metals, pesticides, molds, and other contaminants; all products are also tested by third-party labs for cannabinoids, so you know exactly how much CBD, CBN, and CBG is contained in each.
Their range of cannabis terpenes includes three types of CBD tinctures obtained from hybrid hemp varieties, Indica and Sativa.
Whether you would like to try real terpenes to fight anxiety, as an anti-stress product, or something to help you improve your focus and concentration, the brand can cater to everyone's needs.
TO CHECK PRICING CLICK HERE: https://www.organiccbdoilreview.com/green-garden-gold-terpenes
In Summary: Terpenes
Terpenes – are oil based aromatic compounds that are found in essential oils and can have potential therapeutic effects. Together with terpenoids, these substances are found in most full-spectrum CBD oils available on the market.
Recently, CBD oil products with added terpenes are being prepared by some brands to support more specific ailments.
Preliminary studies confirm the positive role of terpenes in supporting human health, however, further research is necessary to confirm this.
What we do know for sure is that terpenes play an important role in the so-called 'Entourage Effect' – which suggests a synergy between the components of the cannabis resin and the cannabinoids.
It is now know that high quality terpenes can actually enhance the benefits of CBD oil.
According to a review by the British Journal of Pharmacology, taking terpenes and cannabinoids together may be beneficial for fighting pain, infections, depression and even cancer and epilepsy. [9]
In other words, terpenes and cannabinoids interact with each other as well as with the brain receptors, acting as an effective natural remedy.
Since hemp-derived CBD products are legal at the federal level, all you have to do is find a product formulated specifically for your needs – and start enjoying its benefits.
---
We hope you enjoyed this article – if you need further advice on the benefits and effects of terpenes, please leave us a comment below.
We would love to hear from you…
---
REFERENCES:
[1] https://www.nature.com/articles/nchembio.2007.5
[2]https://chem.libretexts.org/Courses/Athabasca_University/Chemistry_360%3A_Organic_Chemistry_II/Chapter_27%3A_Biomolecules_-_Lipids/27.05_Terpenoids
[3] https://link.springer.com/referenceworkentry/10.1007%2F978-3-642-22144-6_120
[4] https://www.ncbi.nlm.nih.gov/pmc/articles/PMC5402865/
[5] https://www.sciencedirect.com/science/article/pii/B9780128000182000194
[6] https://www.sciencedirect.com/science/article/pii/S0168945219301190
[7] https://www.sciencedirect.com/science/article/pii/B9780081000854000116
[8] https://www.ncbi.nlm.nih.gov/pubmed/25771248
[9] https://bpspubs.onlinelibrary.wiley.com/doi/epdf/10.1111/j.1476-5381.2011.01238.x
[10] https://www.ncbi.nlm.nih.gov/pmc/articles/PMC3182282/#:~:text=Terpenoids%20have%20been%20found%20to,properties%5B45%2D48%5D.
---
Disclaimer: This article is not intended to provide medical advice, diagnosis or treatment. Views expressed here do not necessarily reflect those of Organic CBD Oil Review or its staff. Always check with your physician before starting a new dietary supplement program.
By clicking on the product links in this article, Organic CBD Oil Review may receive a commission fee at no cost to you, the reader. Read full Terms and Conditions.